Temporary timetable in operation due to Coronavirus.
Please see main page. Phone and book to avoid disappointment.
The Coral Star departs Yarmouth from the south pontoon, just behind the Lifeboat berth in Yarmouth harbour.
Yarmouth to the Needles Rocks 
We  do Needles Trips from Yarmouth, pasting the Forts on either side of the Hurst tide race. Seeing Totland bay and Colwell bay as we cruise to Alum bay with its coloured sands, then on to the iconic rocks and the lighthouse at the Needles. See map below for route.
1 hr 40 min approx
To Lymington for the Saturday market or Sunday lunch
You can take a trip to Lymington at the weekends, there is an excellent market in the town on Saturdays and good Sunday lunches to be enjoyed.
We cruise across the Solent then enjoy the views of the river as we make our way up the river to Lymington town quay which is just a short walk from the town.
40 min each way approx.
From Lymington to Yarmouth (Saturdays and Sunday)
The Coral Star can pick you up from the Town quay in Lymington, and also from the pontoon next to the Lymington sea water swimming pool.which is best for parking.
A very pleasant cruise down the river with lovely views. then across the Solent to the quaint little town of Yarmouth on the Isle of Wight.
Lymington-Yarmouth. 40 min each way 
From Lymington to Yarmouth+ the Needles at the weekend.          The full experience.
You depart Lymington cruise up the river to enjoy looking at the yachts and the views of Lymington marshes, then across the Solent to Yarmouth. You then have about 30mins in Yarmouth to walk around the small town and maybe buy a picnic for the noon trip to the Needles. The best views of the Island and the mainland are to be seen on this cruise, it takes about 1hr 40mins. Then you are back in Yarmouth for about 50 mins. Maybe you would like to sit and watch the world go by on the boat, the bar is open, or maybe try the local cafes or pubs. Then returning to Lymington.
Offers
Anderson Boat Cruises is now offering a discount to people arriving by sustainable transport lining in with Visit Isle of Wight's Green Star Scheme. If you provide proof of arrival by bus (valid bus ticket) or Bicycle, we will give you £1 per adult discount on our Needles Cruises!
,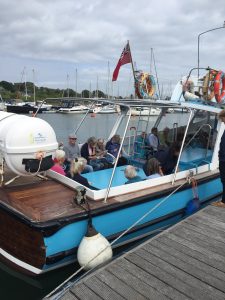 The Coral Star off to Lymington on a sunny Saturday,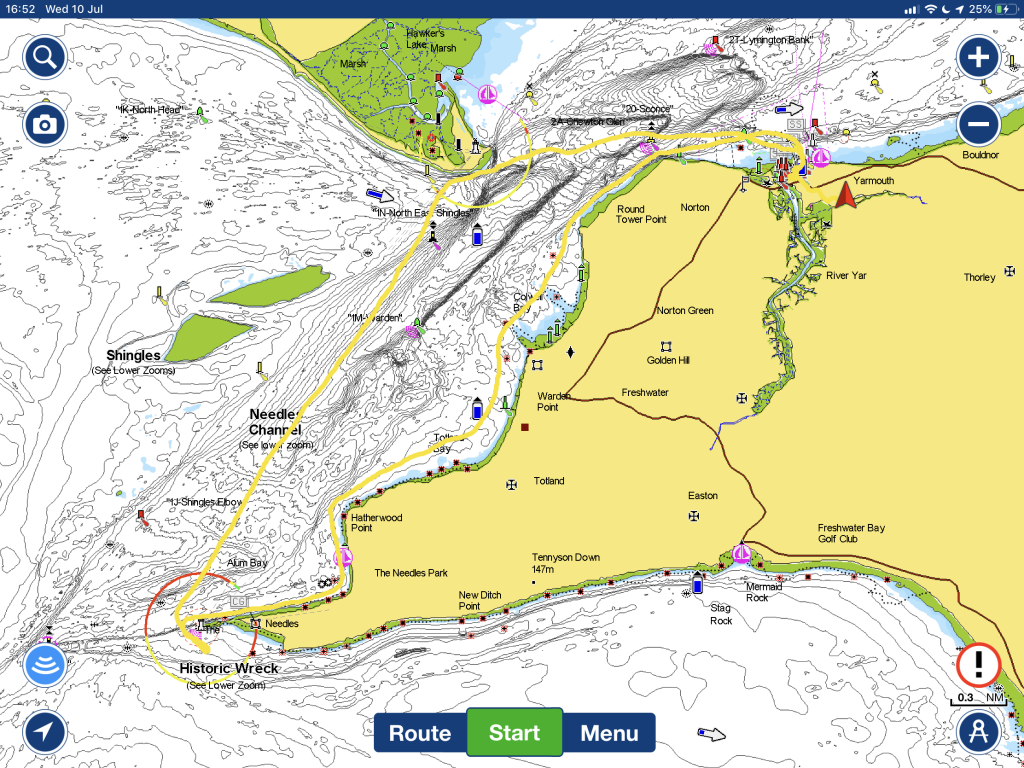 The yellow line is the route we take on a nice day on a Needles cruise